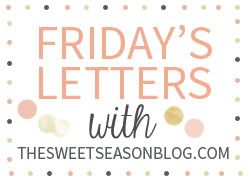 This is my first week linking up with TheSweetSeasonBlog.com for Friday's Letters.
Dear Jeep,

You are not even a year old. Why has my check engine light been on for a few weeks.
Why is so hard to find the time to take it in to figure out what is wrong?
Dear Spring,
I am so happy you have finally arrived. I am so excited for the warm weather, the late sunsets, and watching Makayla play at the beach this summer.
Dear Ebates,
You are truly addicting. You justify my online shopping.
Dear Friday,
TGIF! I'm looking forward to a weekend full of fun gymnastics classes, swim lessons, and lots of smiles.