Happy Wednesday, Friends!
This is my first week linking up with Life After I Dew  for So What Wednesday!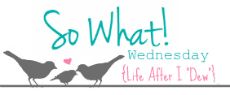 This week I'm saying So What IF…
i'm obsessed with the olympics. mainly just women's gymnastics. mainly just McKayla Maroney. mainly because i like her name, even if it is spelled wrong. 😉
seriously though, she is the cutest and her little squeekey voice is sooo cute! i hope she does well, she deserves it. 
P I N I T
i'm already thinking about the holidays. halloween, thanksgiving, and the winter holidays are going to be so much fun this year with a baby
my sister is going to peru for 5 days in a couple of weeks. i admit i'm kind of jealous that i'll never be able to do random stuff like that again now that i'm a mom
Head over to www.lifeafteridew.com to link up!